Generate LDCad parts bin custom list.
2015-01-27, 1:25 (This post was last modified: 2016-02-29, 14:53 by Milan Vančura.)
You can generate LDCad parts bin lists using this modified version of BrickUtils:
BrickUtils-0.2.0.0(trev).jar
, (
.exe version
).
Other modifications include the ability to create part-mappings. For a complete list of BrickUtils modifications see the
ChangeLog
.
This application is distributed under the terms of the GNU General Public License. You can download the source code
here
.
BrickUtils is free software developed by Mario Pascucci and is available on SourceForge.
For example, after importing bricklink .xml set into BrickUtils(trev)...
Following are the steps to generate a .pbg file (LDCad parts bin list):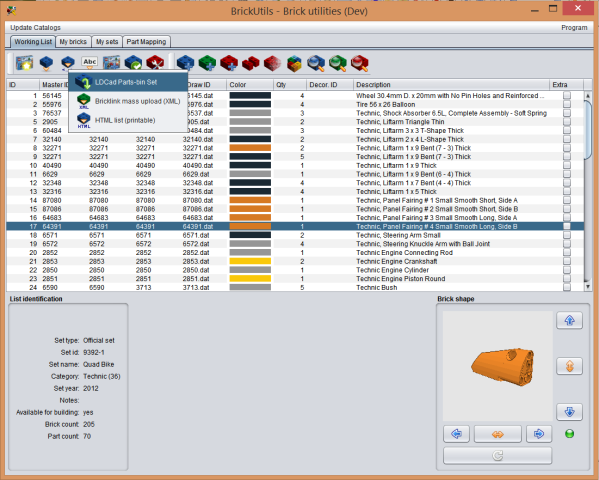 BrickUtils_02.png
(Size: 7.54 KB / Downloads: 160)

BrickUtils_03.png
(Size: 6.86 KB / Downloads: 158)
Do not hesitate if you have any questions or remarks.
Cheers,
Trevor