6436 Duplo Arch 4 x 10 x 3 with Glass (Skylight)

2020-10-13, 20:15 (This post was last modified: 2020-11-26, 22:21 by Gerald Lasser.)
Hi,
I wonder if this could be done in LDRAW. really I'm mostly interested in the glass itself since it is around 16L x 8L x 6L
and would look awesome in a lego train station digital MOC assuming I can find some clever way to incorporate it with lego pieces.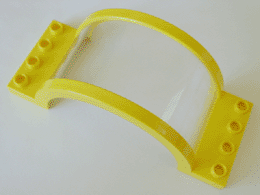 It comes in 10 sets and the frame is only in yellow:
https://www.bricklink.com/v2/catalog/cat...5D#T=C&C=3
I'm trying to find more photos / videos of it from other angles but its hard.
i'll update this tread if I find anything.
EDIT: found some high quality images:
https://i.ebayimg.com/images/g/Rt8AAOSwN...-l1600.jpg
https://i.ebayimg.com/images/g/RaAAAOSwb...-l1600.jpg
https://i.ebayimg.com/images/g/ajMAAOSwG...-l1600.jpg
https://i.ebayimg.com/images/g/2OQAAOSwG...-l1600.jpg
https://i.ebayimg.com/images/g/60wAAOSwv...-l1600.jpg