Duplo Candle with Yellow Flame
2020-10-12, 8:37
A little unusual perhaps, but I am in need of the Duplo Candle with Yellow Flame.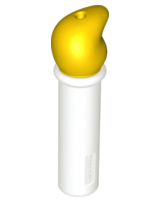 I have some sort of mockup for the candle itself (just a cylinder and a torus), but the flame of course is a complex form.
Does anyone have an idea of how to mock-up the flame or make it?
Perhaps there is a way to do it quick and dirty?
It would just be for the looks of the image I am making. No hight quality or precise part is needed atm.
Just the form of the flame will do. No need for the hole on top.
Jaco van der Molen
lpub.binarybricks.nl