RE: Parts we are Working on - Part Deux
2020-12-22, 0:23
I've created the stickers from sheet 4650854 in set 3185 Summer Riding Camp.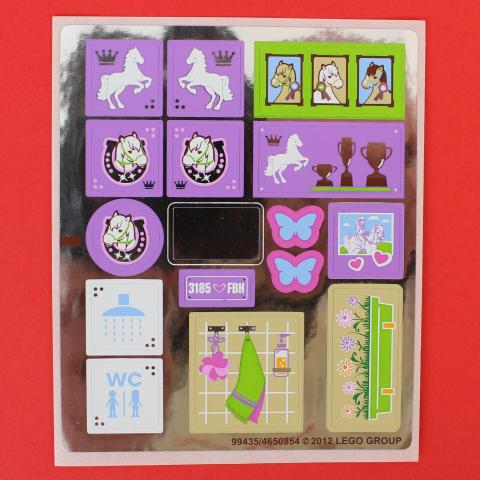 The patterns are printed on a silver mirror sheet and I am wondering which color should be used, 80 metallic silver or 383 chrome silver.
The color regulation says: "In general, metallic colours on stickers, patterned parts, and other printed materials should use the LDraw Metallic Colours and not Chrome or Pearl colours. There are exceptions that will be handled on a case by case basis."
https://www.ldraw.org/article/512.html#colours
For the sticker piece 4650854h, the silver is functional as a mirror, thus I've used color 383 similar to the other mirror sticker 4614425b.
It is a sufficient reason for an exception, I think.
https://www.ldraw.org/cgi-bin/ptdetail.c...14425b.dat
However, the silver in other pieces 4650854a-g and 4650854i-o is only a decorative purpose.
I've complied with the regulation and used color 80 but got hold.
https://www.ldraw.org/cgi-bin/ptdetail.c...50854a.dat
I think the solution is either the following two:
(A) Apply the exception to the entire sticker sheet 4650854 and use color 383 (better reproduction of real part)
(B) Observe the regulation as much as we can, and retain using color 80 for decorative pieces
The similar problem comes with sticker sheet 4620858 in set 3187 Butterfly Beauty Shop, and more.
Thanks,
Takeshi