RE: Train Hooks from the 1960's x507, x508 and their plates.
2017-09-05, 22:51
I uploaded now the base as u886 to the PT, I also made a small PPT to show my intent: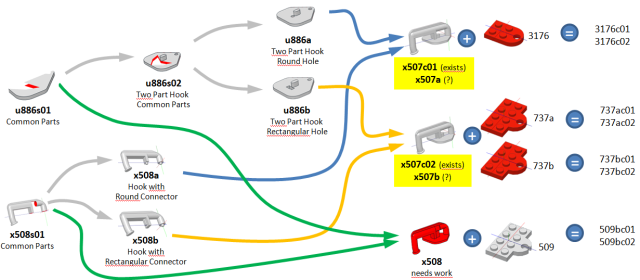 Where I see a collision coming up are the assembled hooks marked in yellow.
They are permanent assemblies. Rightfully they shall get a xxxc01 and xxxc02 number, however the appropriate numbers x507c01 and x507c02 (using the x507 hook and the 737 plate), are already used, though in the unofficial library, but I guess those parts are already used in some MOCs in the wild.
So shall the assembly be numbered x507c03 and c04? would that make sense? Or use 'a' and 'b'?
The existing x507 would then be made into a 'move to'