RE: Parts from set 75978 (Diagon Alley)
2021-02-17, 0:41
(2020-12-29, 15:38)

Vincent Messenet Wrote: Hi,

I'd like to build that set but some parts are not yet in LDraw:
35530 Minifig Head Special, Small Cube (Baby)
37704 Sports Quidditch Ball, Golden Snitch
43693 Minifig Head Special, Skull
49656pat0001 Geode / Rock with Glitter Trans Purple Crystal
60601pr0007 Glass for Window 1 x 2 x 2 Flat with Newspapers print

If anyone wants to work on these parts, your help is very welcomed
Thanks!
I made an attempt to create part 
37704
 Sports Quidditch Ball, Golden Snitch.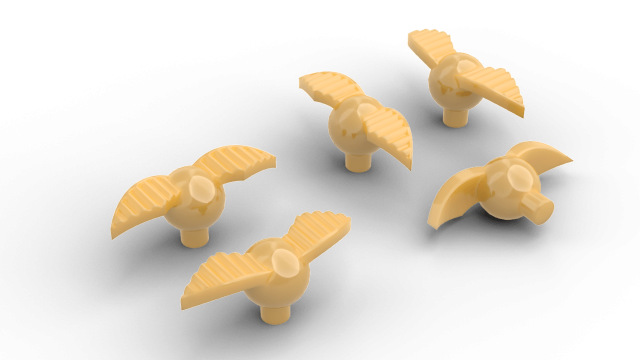 Render of part in Stud.io
Some details are not 100% accurate, but the main shapes, measurements and connectivity are.
In the attached ZIP file, you'll find the part files as exported by Part Designer, as well as all the original Sketchup design files.
Hope you enjoy!