RE: Cylinder Hemisphere 61287pb002 and 61287pb001 (Earth map / Globe)
2020-07-30, 12:03 (This post was last modified: 2020-07-30, 12:04 by Jaco van der Molen.)
(2020-07-30, 11:16)

Jaco van der Molen Wrote: OK, my source files are vector so I can easily make the background transparent.
That is what I used when I rendered in LPub3D using LDView that came with LPub3D. I'll have to test with your normal version of LDView, but I am unsure that works in LPub3D. I do not have access to my laptop with the graphics program (I use Adobe Fireworks btw) nor the LDraw stuff, so I will update later today.
My daughter was so kind to give me some time on _my_ laptop, so I could upload transparent versions of the images in the Google folder: t-pb001.png and t-pb002.png =.
Where t stands for transparent, not tan. I have renamed the versions with background to dt-pb001.png and dt-pb001.png.
Next I tested and compare the two versions in LPub3D, LDView and LDcad.
Top globe is with transparent background, bottom is with dark tan background.
The strangest thing in LPub3D is that a certain area of the image is not rendered in every instance of the generated image.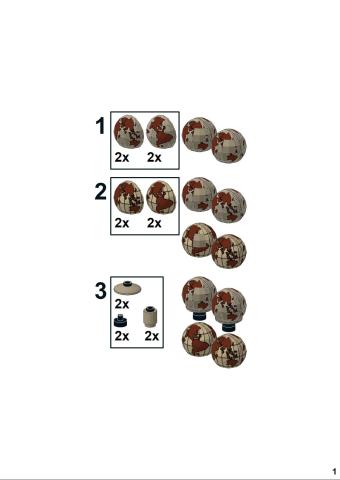 LDCad does a very nice job rendering
LDView 4.3 did not render the textures and 4.2 crashed parsing the model.
Jaco van der Molen
lpub.binarybricks.nl