RE: Tile 1x1 Round
2020-05-15, 12:55
(2019-06-15, 0:37)

Orion Pobursky Wrote: I'm sure I missed some sort of relevant discussion but why are the top edges rounded on the 1x1 round tile but nowhere else? It seems to me that these edges should be sharp just like every other part.
The real parts do have this bevel, but my issue is the way these parts render in LDCad and LPub3D.
Perhaps we over-beautified them? Sure, they are not sharp, but do we really need that extra smoothness?
I guess only if you do a super hi-res photo-realistic render, but otherwise, it is not really needed IMHO.
I have a feeling normal straight tiles have a bit of a bevel and we do not have that in the LDraw parts either.
Currently, I am making a rather big model that uses some of these round tiles.
IMHO they render awful in LPpub3D using the native renderer.
See this example, especially when using white parts on a white page and the way I set up rendering with black outlines for white parts and white outlines for black parts:
Native renderer in LPub3D
As you can see in the image the white 1x1 round tile does not really stand out.
So does the 1x1 tile with rounded end.
Where I am not exactly sure if this is typical and due to the native renderer of LPub3D.
LDView does a bit better job, but still "missing" some edges: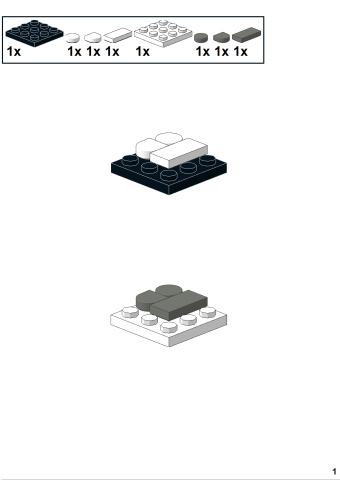 And, if I may say so, the render in LDCad is not that good too.

Naamloos-1.png
(Size: 135.34 KB / Downloads: 43)
I especially dislike the somewhat strange shadow effect on the 1x1 tile with rounded end.
I know better to complain about parts because I know how much work and effort goes into making these, but can we do something about it?
Does anyone share my opinion that the renders are not that good?
Can we achieve a rendering more like LEGO does draw these parts, like for example on page 81 of the instructions of 31065-1: Park Street Townhouse (see an excerpt attached).
Jaco van der Molen
lpub.binarybricks.nl