LDCad Part Snapping Guidelines
2015-10-11, 22:01 (This post was last modified: 2015-10-14, 13:19 by Willy Tschager.)
So in working on adding some part snapping info I've got some questions about guidelines. Maybe it's the perfectionist in me and I'm over thinking this, but I'm not sure about the "correct" way to add snapping meta to a couple parts I've run across. I'm also pretty new to all this, so maybe it's spelled out somewhere else and I just haven't run across it yet.

Anyway, two examples below with questions about how to "correctly" add the snap meta.
First Example:
Above is Part 60849, Minifig Hose Nozzle with Side String Hole Simplified. For this piece, it would make sense to stop a piece from sliding past the trigger on the nozzle and the handle, highlighted in green in the picture on the left. However, if you configure it this way and as you can see in the middle picture, the red area has no snap meta and parts will not snap to that area. Clips should, however, be able to snap to the red area. If I modify the part to allow clips to snap to the red area, then that allows parts to slide past the handle and end up in an "illegal" (overlapping) position, as in the picture on the right.
Second Example: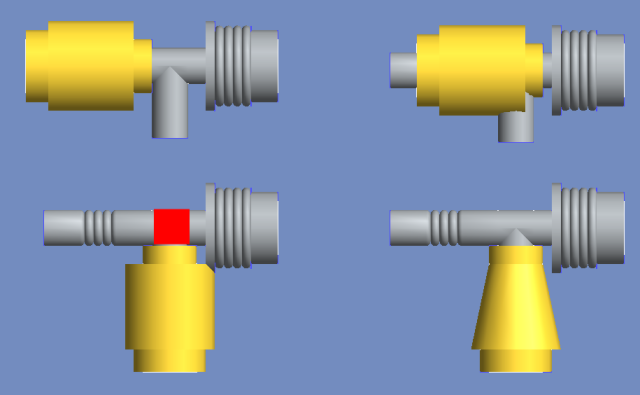 Same as the first example, but with part 3959, Minifig Torch. If you want to prevent pieces from sliding past the handle, as in the top set of pics, you'll end up with an area (see red square on second row) where there's no snap meta and pieces (clips) will not snap to that location. However, clips should be able to snap to the red area.
Also, as you can see in the bottom set of pictures, depending on the piece, one could end up colliding with the nozzle and end up in an overlap position.
So, my questions...
It would seem that in order to get clips to snap in the red area you would also have to allow pieces to end up in positions where they overlap. Same goes for allowing all parts to travel the full distance of the handle in the second example. Is this how it should be done (i.e. allow overlap)? Or, is there a way to add meta to allow all of these combinations without allowing overlap? Are there any guidelines I should be following in situations like this? Am I over thinking this?