67139 - Technic, Pin Connector Block, Liftarm 1 x 3 x 5 with Cutout

2020-08-19, 18:18 (This post was last modified: 2020-11-26, 22:19 by Gerald Lasser.)
This part:
https://www.bricklink.com/v2/catalog/cat...3#T=C&C=11
Is super useful used either as a 5th wheel or just a technic connector block.
It would be cool if it is in LDRAW but idk if anyone has it yet but,
I may buy some to use IRL so can maybe help figure out some of the geometry
I can see that it has 2x2 then 2x2 holes on the front, the inner of which are thru holes that span 3L. The two gaps cannot hold say a 1x1 beam because on the underside there is a face like on technic panels.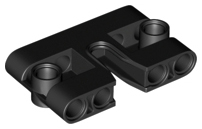 Regards, Snipe