RE: Studio 2.0 review
2019-03-22, 6:25 (This post was last modified: 2019-03-22, 6:35 by Jaco van der Molen.)
(2019-03-21, 15:29)

Mike Cook Wrote: Thanks for that, but my screen does not show these options. I was asking how to do this in Studio 2.0 is it perchance that these screen options are only in LDraw?


With a bit more fiddling I got it. Those options only appear in the Page designer mode and only then if you click on the bounding box of the model, the blue outline. I don't in fact get the "Convert to callout" option bar at all, just a "Cancle step change view" red bar.

Thanks very much happy bunny.
The screens I show are from Studio Mac version (but actually look the same on Windows).
The option I explain are indeed only available in Page Design mode.
If you don't see the Change Step view or Convert to Callout button, you have selected the step image or a specific brick in the step.
Then you should have the Activate Buffer Exchange button.
You have to select the step section, so click
outside
the step image to get the buttons!
To get a top view setup like this: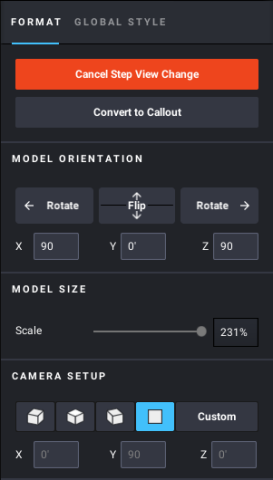 Camera setup = 4th option (the square)
Use Rotate and Flip buttons to change the viewpoint.
Jaco van der Molen
lpub.binarybricks.nl