Major problems on integrated graphics... and a possible solution (NVIDIA only)
2016-11-21, 12:21 (This post was last modified: 2016-11-21, 12:23 by Nils Schmidt.)
(2016-11-21, 11:52)

Willy Tschager Wrote: I've got a flickering artefact in the center of the 3D pan plus a black flickering bar across the pan. The compass in the bottom right corner is mirrored to the primitive pan (also with a flickering  bar which rotates in sync with the mouse cursor. I cannot offer a screenshot 'cos my entire system got totally unstable. I'm able to launch progs but that's all. I cannot interact with them - not even the Explorer or the Task-Manager works! I cannot close them. My mouse behaves like a zombie and all I can do is reboot .

w.
Arrgh! I was able to reproduce this issue on an Intel IGP (Intel HD Graphics 4600).
If you got a computer with switchable graphics from NVIDIA, you can enable the NVIDIA graphics processor with the control panel.
The
javaw
executable is located at
C:\ProgramData\Oracle\Java\javapath\javaw.exe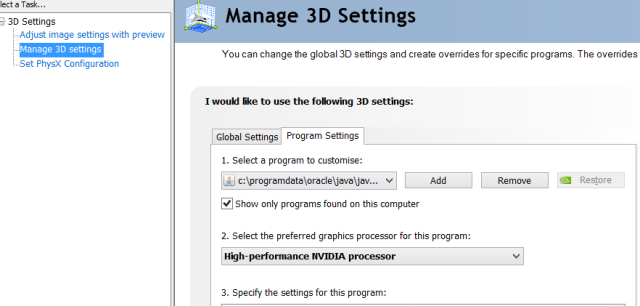 This will solve all problems.