RE: Lpub3D 2.3.13 Native Render
2019-07-29, 9:40
(2019-07-29, 9:01)

Jaco van der Molen Wrote: I know... ;-)
The model I have is large too and renders very fast with native renderer. LDview still produces the best images for me though.

But, test running and going to the model and tweaking here and there in the building process is a very good option with the native renderer.
Then, if everything is OK, I switch to LDView to make the final render.

I find the lack of shading a pitty in the native renderer.
@Trevor: any chance to able the native renderer to add some very basic lighting or shading?
@Jaco, the Native renderer
does
have shading and lighting. You can see as such on Nico's step 14 shot in previous post. Look at the holes in the beams. Here's a shot showing the LPub3D preferences to tweak the shading.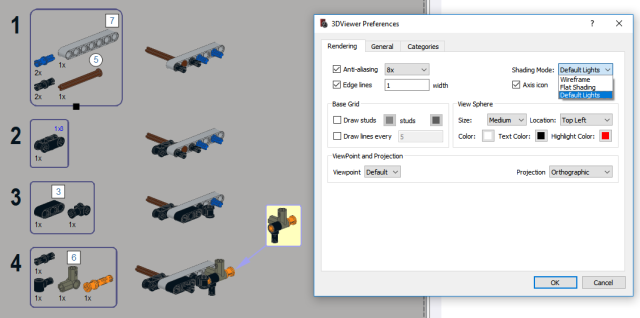 Cheers,