---
1950s Town Plan - N. W. Perry - 2021-05-18



Town Plan / System in play


Sets 1210, 1211, 1212, 1213 and 1236 — the first true model sets!

In 1955, TLG launched the

System i leg

("System in play") branding concept, which was the genesis of what we now simply call the Lego "system".

System i leg

was a line of small model kits, parts packs, accessories and HO-scale vehicles that, together with the existing Lego Mursten gift boxes, all centered around the "town plan"—a soft plastic mat that had a city streetscape laid out on it. So you could say this was also the beginning of the Town theme (although the idea of themes wasn't really introduced until Legoland in the 1970s).

These five small model sets included, for the first time, a selection of parts intended to build specific models, and there were instructions for those models enclosed in the box (as opposed to in the catalog, as with the gift sets of 1954)—another first, although standalone instructions wouldn't become commonplace for about another decade. The models were a collection of small shops or houses, and a garage with a clever automatic door.

These sets went through a few different versions over the years, as slotted bricks were retired and tabbed windows replaced with studded ones, and like all early sets, the exact contents tended to vary quite a bit anyway. When Lego started selling in Germany and beyond, these were sold with 3-digit set numbers (210–213 and 236) to differentiate them from Scandinavian sets that still had the slotted bricks. The 3-digit set numbers became universal in 1958.


---
1210 - Small Shop - N. W. Perry - 2021-05-18

House, shop, kiosk, småhus, whatever you want to call it, this little 6x8 building could be a grocer, a butcher, a baker, a…candlestick-maker, I guess…anything you want! As long as it was whatever came printed on the named beam inside. 



This set is interesting because it shows the different ways the tabbed windows could connect to the bricks (there were no studs on the windows or doors in those days). I had to redesign those parts in order for them to fit properly, so this model uses the new unofficial versions. Also notice the "waffle-bottom" plates, 1x1 rounds without the nail rail, and the lack of any tubes or pins on the underside of the bricks—and no stud logos, either!

The instructions and box artwork show both a 1x6 and 1x8 beam on top of the building, but only one or the other was actually included (and always with text, not a blank one like the 1x6 here). There are comments in the file with much of this information, and other notes about the build.


1210 - Small Store - Main model.mpd (Size: 28.53 KB / Downloads: 9)
OMR compliant: Yes
Errors: None
Done with LDCad 1.6d


---
1210 - Small Shop (alt. model) - N. W. Perry - 2021-05-18

The instructions in this first version of set 1210 showed how to build two different models. The one above appeared on box tops and in catalogs throughout the years. This alternate model was only shown in these early instructions.

(Notice how the one window actually has to be skewed a bit to fit behind the round brick. In real life the part would probably have to be flexed slightly.)


1210 - Small Store - Alt model.mpd (Size: 54.51 KB / Downloads: 6)
OMR compliant: Yes
Errors: None
Done with LDCad 1.6d

---
That little piggy friend sure is cute. Too bad he's about to become svinekød! 

---
1211 - Small House - N. W. Perry - 2021-05-20

This set always seems to represent a house, whereas the 1210 set above is sometimes called a "house" in catalogs, but usually represents a shop of some kind. The two sets are sometimes listed as "hus 4x8" (this one) and "hus 6x8" (set 1210).

The instructions are a little indecisive on where the pair of 1x1 bricks should go, but it does seem there should be three of them in total, and only 6 1x2 bricks. The online inventory databases don't agree with this—and that may accurately reflect what was included in the set. But note that the databases also list red 1x1 rounds with these sets, whereas they were actually blue.


1211 - Small House - Main model.mpd (Size: 14.26 KB / Downloads: 5)
OMR compliant: Yes
Errors: None
Done with LDCad 1.6d


---
1211 - Small House (alt. model) - N. W. Perry - 2021-05-23

Here we see the very exciting alternate model for set 1211, a stunning rendition of—a very similar house!

Aside from being basically the same house backwards, the one notable difference from the main model is a pair of 1x3x2 windows instead of one 1x6x2 with shutters. I don't know for sure whether both types were actually included in the set, or if the instructions just show a suggested variation. In any case, the instructions for this model have more than the usual number of discrepancies, even considering the period, but the intent seems clear enough regardless.

Besides the difference in  windows, my guess as to the reason for this alternate model is to show how two sets could be combined back-to-back to form a larger house. This goes along with suggestions to place multiple sets in a row to form a business block, or stack a number of houses to form a skyscraper.


1211 - Small House - Alt model.mpd (Size: 11.27 KB / Downloads: 3)
OMR compliant: Yes
Errors: None
Done with LDCad 1.6d


---
1212 - Small House - Right - N. W. Perry - 2021-05-25

Here is set 1212, Small House - Right, also known as Small House - Left.

Yeah…for whatever reason, this set and its sister, set 1213, started off in Scandinavian catalogs as the right and left "curve" or "wing", respectively. Then when sales started elsewhere in Europe (as sets 212 and 213), catalogs in German- and Dutch-speaking countries switched the terminology and began calling them left and right. But when Scandinavian sets also switched to 3-digit numbers, they kept the original names, as did other countries like Italy. (In later years, both sets were most often referred to simply as a small house, without trying to decide which side was which.)

For whatever other reason, the German/Dutch terminology is what took hold across most of the online world, but since I'm showing the original versions of these sets, I'm using the original nomenclature. And besides, it makes more sense, since the early catalogs clearly show these two sets as the right (1212) and left (1213) wings of a larger block, with a central shop (set 1210) in between them. In any case, the same set number always applies to the same physical configuration; the only thing that changes is whether it's called "left" or "right".


1212 - Small House Right.mpd (Size: 10.32 KB / Downloads: 4)
OMR compliant: Yes
Errors: None
Done with LDCad 1.6d


---
1213 - Small House - Left - N. W. Perry - 2021-05-25

And here of course is set 1213, Small House - Left…also known as Small House - Right.

These two sets did not have alternate models because they were both shown in the same instruction leaflet. Sets 1210 and 1211 had separate leaflets, so there was room in each for a second model to be shown.

Note that you have curved 1x2 bricks both with and without the notches, and also that the tabbed door doesn't quite fit behind the curved brick without a collision. In real life, there would be enough physical play for it to fit. And as before, the tabbed window can fit behind the 1x1 rounds but in front of the adjacent bricks, by being shifted 2 LDU in the Z direction. Bear in mind, too, that these early bricks didn't yet have the underside tubes or posts that give the modern brick its clutch power. So there would have been a lot more "wiggle room" anyway, allowing more of these squirrelly-type constructions.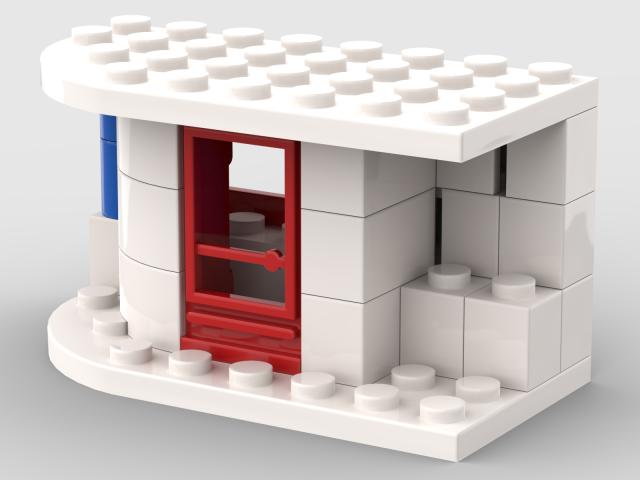 1213 - Small House Left.mpd (Size: 10.32 KB / Downloads: 1)
OMR compliant: Yes
Errors: None
Done with LDCad 1.6d


---